SLCBO project of Solar Water Pump Donated Solar Water Pumping Solution to Bonthe

Project Report – Sierra Leone Community Based Organization, Help People Help Themselves (SLCBO-HPHT) is a non-profit making; registered charity organization based in Norway and is pursuing its aims and objectives in Sierra Leone.
On the 1st February, we bought all the materials for the solar installation and also hired a vehicle and on the next day 2th February, 2014, a team (including project coordinator, technician and plumber) went to Bonthe for the installation of solar pump at the Biankoi community. The installation lasted for two days.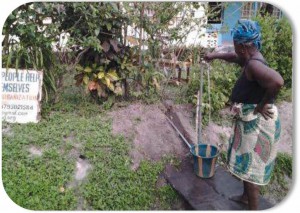 On the first day, we went to the site, had a meeting with the community people including the councilor,
section chief and subordinates. We explained in details the reason for the project and the sponsors
(Maridalen Rotary Klubb and Solenergi Uten Grenser) behind the project. Later, the community
appointed a committee which will help in the installation. The committee decided the location of the
pump and was also responsible for taking care of the solar water pump. In fact, the chief is the only man
with the key to the locker which opens the pump by 6: 30 am and closes 6: 30 pm. With the help of the committee, we prepared the site and made the layout for the installation.